NOTICE OF RACE: NIMBY XXIII, the 23nd Annual
"Not In My Back Yard" Road Trip Regatta
Friday, June 21 – Sunday, June 23, 2019
Location: Navarre Beach, FL
Chairperson: Wright Finney
Email: wfinney@fsu.edu
Registration Form

Notice of Race: NIMBY XXIII June 21 – 23, 2019 – Navarre Beach, FL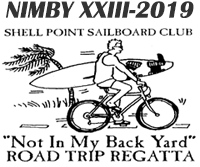 NIMBY XXIII, the 23rd Annual "Not In My Back Yard" Road Trip Regatta, is scheduled for Friday, June 21 – Sunday, June 23, 2019. We are now in our twenty third year of taking the Shell Point windsurfing "show" on the road to different venues. This year, we're going back to the location of NIMBY XVII (2013) – Navarre Beach, FL, albeit at a slightly different venue. The host hotel will be the Days Inn & Suites by Wyndham Navarre Conference Center, which is across the street from Santa Rosa Sound. You can walk or bike easily to numerous shops, bars, and restaurants located nearby. Although the motel is not located on the water, it is within a 5-minute drive to the launch site which is immediately adjacent to Juana's Pagodas on Navarre Beach. This place was chosen because of its relative affordability compared to waterside motels. We extend a special invitation to our sailing friends from the Florida Panhandle and to those in the Atlanta, Charleston, and Florida East Coast areas to join us at this year's NIMBY.

Registration: The NIMBY regatta has always been designed to be enjoyable for racers and non-racers alike, with a "No Class" offered along with the traditional racing classes. The registration fee will again be the usual $20, and will include happy hour beverages and a pre-supper party on Saturday, trophies, and an item of some sort with the NIMBY logo. We do ask that everyone who participates in any of the NIMBY activities register for the event to help defray expenses. A registration form is separate from this notice – please print and fill it out and bring it to the event with your payment (there is no early registration required).

Venue: Navarre and Navarre Beach are about 180 miles west of Tallahassee, or about 3 hours driving time. Directions for this one are relatively easy. Take I-10 west for about 2.5 hours, then take the SR-87 exit south. Drive another half-hour, and SR-87 tees into US-98. Take a right on US-98 and the Days Inn is about three blocks down on the left. There are three campgrounds in the area if you want to camp or bring a trailerhome. If you are bringing a boat you can launch at several places; more information will be forthcoming.

Motel:The host hotel is the Days Inn & Suites by Wyndham Navarre Conference Center. There is an outdoor pool, daily continental breakfast, lots of free parking, free Wi-Fi, laundry facilities, outdoor grills, and rollaway beds are available. The shopping center next door has several restaurants and a Winn-Dixie. For the event, I have reserved 12 rooms. There are several types of rooms (two queens or one king), but all rooms are the same highly discounted price - $136.16. These rates are quite reasonable considering that we're booking right in the middle of their "high season"; gulf-front rooms across the street run $230/night. In order to access this block, you will need to call the hotel directly and make the desk staff aware that you are part of the "NIMBY Windsurfing Regatta" group (mentioning my name might also help).

The rooms will be held only until mid-May. I strongly suggest that you call now and mention the "NIMBY Windsurfing Regatta" on June 21 - 23 for best rates and availability. Note that we get these rates by promising that a certain number of rooms will be rented, so please register at the Days Inn Navarre. Any unused rooms will still be open to be booked by our group if needed but will not be secured for you specifically. Any late reservations can be added to the block to receive a discount. Go to the Days Inn Navarre web site for full details on the motel and rooms: https://www.wyndhamhotels.com/days-inn/navarre-florida/days-inn-and-suites-navarre-conferencecenter/overview.

Camping: There are three camping options within a very short driving distance of the motel; you may want to check these out and make reservations on your own:
Santa Rosa RV Resort, santarosarvresort.com
Emerald Beach RV Park, emeraldbeachrvpark.com
Navarre Beach Camping Resort, navbeach.com

Boat Launching and Dockage: I encourage folks to bring powerboats to this event, since we will be touring Santa Rosa Sound on Friday as well as following the racers in the bay on Saturday. For those bringing boats, there is a boat ramp in Sound Side Park next door to Juana's Pagoda's. I will probably anchor my boat overnight on the sound side. Other specific options will be forthcoming; there are a few nearby marinas with overnight transient boat dockage. You can also choose to launch and pull out each night, and store your boat in the motel parking lot. Kayaks and canoes are another option for non-sailors who want to explore the shoreline near the motel.

Schedule of Event: The schedule and format will be similar to past NIMBYs. A yachting trip in powerboats to Gulf Islands National Seashore on Santa Rosa Sound will kick off the weekend on Friday at noon (meet in boats at the launch ramp). Registration and a welcome happy hour will be held at the motel around the pool early Friday evening. Friday happy hour is BYOB; participants are encouraged to bring an hors d'oeuvre to share. Friday evening supper and entertainment will follow in a venue of your choice. Racing will commence on Saturday morning at Sound Side Park next to Juana's, followed by another happy hour with the traditional "mystery hunch-punch" and supper on Saturday evening. Those who want to hit the town can certainly do so after supper – Juana's always has great live bands. Sunday will see more racing if the participants desire, followed by the trophy presentation in early afternoon.

Racing:Because the motel is not on the water, we will be racing from Sound Side Park that is just over the bridge next door to the famous Juana's Pagodas. Windsurfers can be rigged and launched from the sandy beach, but you'll have to de-rig at the end of the day. There is a nice boat ramp there for the yachties, and plenty of parking. There is a convenience store and the many facets of Juana's if you need lunch or drinks. Kayaks and paddleboards can be launched from the same beach.

The waters in Santa Rosa Sound can range from flat to choppy, depending on the wind speed and direction. The courses will be well-marked. There is some small boat traffic crossing the course, but we will avoid any unnecessary contact with large craft. There will be no offshore sailing, and several chase boats will be at the ready for rest or rescues. Classes will be determined based upon registrants at the event, but we usually have Longboard and Sport fleets, and we'll add Formula and/or Kona if there is sufficient participation (along with the now legendary "No-Class"). The courses will be designed to suit the racers, but may include some non-standard configurations which will be challenging but fun.

In the tradition of the NIMBY, we will be continuing a long-standing tradition of featuring one or more long distance races on Saturday. We'll start at the park beach and sail a long distance course to a point on Santa Rosa barrier island. There will probably be two or more legs in each direction. Depending on the wind direction, we will either reverse the course for the return trip or set a new course back to the launch site. Nonsailors can ask the various chase boat skippers for a ride to the finish line (space available), where we will provide refreshments to the racers during a rest break before the race back. It can blow from 5 to 15+ knots depending upon the sea breeze – sailors might want to bring a variety of equipment to be able to adapt to the conditions.

More Information: For more details or questions, contact me at wfinney@fsu.edu. Don't delay – reserve your room at the Days Inn now, and thanks for supporting our annual out-of-town road trip weekend, NIMBY XXIII.